Little Eyes has a huge selection of kids frames to fit all sizes of our pediatric patients, from infant to teen.  We have the coolest, most durable, most unique frame lines in the state for kids, and stand behind our eyewear with a NO QUESTIONS ASKED guarantee.  We also offer an array of sports glasses and goggles, including swim goggles.
Visit our pediatric dispensary for a unique experience in fashion, quality and craftsmanship.
We feature stylish pediatric frames from:
Ray Ban
Etnia
Easy Flex
EyeFunc
Coach
The most important part of your child's glasses, digitally etched lenses will give them unparalleled crispness and clarity.
Digital Lenses
UV coating on every pair to help block harmful UV rays
Premium scratch coating and hard coating
Premium Anti-Reflective coating
If we don't have what you are looking for in stock, we will gladly order what you want from our vendors.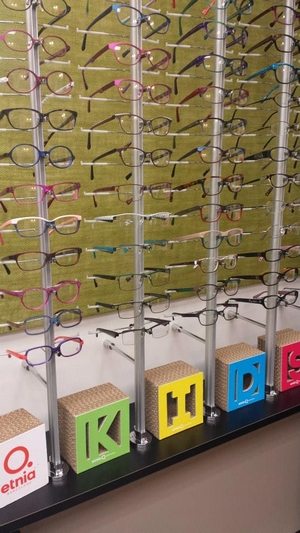 Contacts
Does your child need new contacts? Never had contacts? Don't think your child can wear them? Dr. Schuetz can help.
We offer pediatric lenses for:
Athletes
Astigmatism
Dry Eyes
Bifocal and trifocal wearers
Myopia Reducing lenses
Dr. Schuetz's office stocks a wide range of contacts from names you know, including:
Bausch and Lomb™
Johnson & Johnson®
Cooper Vision®
CIBA Vision™®
In short, it's all the products you need for your pediatric vision, conveniently located in one place.
Little Eyes offers the same professional eye care as RevolutionEYES but with a focus on children age 6 months to 13 years. Now, we have a new location with the same outstanding pediatric optometrist, Dr. Katherine Schuetz.
Check out our story about how Little Eyes began as "A Little Boy's Dream"
Call (317) 420-2020 or contact us to make your child's next appointment and see us at Little Eyes! (for children 6 mos to 13 yrs old).
* you may need to dial the "317" with our new phone number