Dr. Fiechter
Dr. Frannie Fiechter received her BS in Biology, cum laude, from Butler University, where she first fell in love with the greater Indianapolis area. She then attended Indiana University School of Optometry, where she received her Doctor of Optometry degree. To foster her care for those with specific vision needs, she has enjoyed volunteering her time at the Indiana School of the Blind and Visually Impaired, organizing activities for the children in the residential program. As she has always had a passion for working with children, she has spent lots of time participating in vision screenings, and loved to serve in iTown Church's infant and youth programs before having children of her own.
Continuing on in her love for children and the pediatric population, Dr. Fiechter spends a good portion of time at Little Eyes taking care of the needs of the younger individuals in your family. She had the privilege of training at one of the top referral centers in Indianapolis, where she gained extensive knowledge in management of cataracts, glaucoma, diabetic retinopathy and macular degeneration.
In her free time, Dr. Fiechter loves to run, bake, enjoy time with her family, and vacation anywhere warm. She looks forward to taking care of the vision needs of your family!
Doctor Wilson
Dr. Wilson attended Indiana University School of Optometry, where she graduated with honors. She received a BS in Biology and a BA in Spanish from Butler University and is excited to be back in the Indianapolis area providing care for her fellow Hoosiers. As a student, Dr. Wilson was actively involved in the American Optometric Student Association, where she represented IU on a national level as a Trustee. Passionate about volunteerism, Dr. Wilson also served as the Vice President of Volunteer Optometric Services to Humanity and was named Jack Bennett Humanitarian Award recipient for her efforts.
Through her clinical education, Dr. Wilson gained extensive experience in the diagnosis and treatment of ocular disease, fitting contact lenses, and working with pediatric patients. As a primary care optometrist, she looks forward to tending to your family's ocular needs.
Dr. Wilson is a member of the Gold Key International Optometric Society, the American Optometric Association, and the Indiana Optometric Association. A self-proclaimed "foodie," she enjoys running, cooking, and trying out new restaurants in her spare time.
Doctor Schuetz
Katherine Schuetz, O.D. received her Doctor of Optometry degree magna cum laude from Indiana University School of Optometry in 2000. She did the majority of her undergraduate work at Millikin University in Decatur, IL, and was able to begin her graduate program after just 3 years there. Dr. Schuetz received a scholarship in her 4th year at Indiana University School of Optometry for her work in Low Vision Services.
Dr. Schuetz believes that children need special care in the diagnosing and treatment of vision problems. She has been a provider for InfantSEE since 2002, the national no-cost program for eye assessments for babies age 6 -12 months.
Dr. Schuetz has been practicing in Carmel and Zionsville for the past 23 years. Dr. Schuetz has always enjoyed seeing patients of all ages, and is thrilled to continue to see patients ages 13 and up at RevolutionEYES for eye exams for exceptional glasses, contact lens fittings, and any office visit related to the health, comfort or vision of the eye. She has also welcomed the opportunity in 2013 to better serve her pediatric patients with our satellite office for kids 13 and under, Little Eyes. These days, Dr. Schuetz splits her time between RevolutionEYES and Little Eyes.
In addition to seeing patients in the office, Dr. Schuetz sees patients at Trinity Free Clinic, and is pleased to perform school screenings for many Carmel elementary schools, as well as Westfield and many private schools locally.
Dr. Schuetz is a member of the Indiana Optometric Association, Central Indiana Optometric Society, Sports Vision Section of the American Optometric Association, and American Academy of Orthokeratology and Myopia Control.
Dr. Schuetz and her family live in Carmel where her children attend Prairie Trace and Clay Middle School. She is a member of Grace Presbyterian church, and enjoys reading, exercise, and the very rare nap!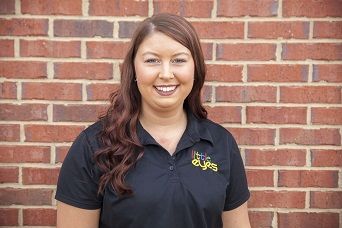 Rachel - Technician
I am originally from Pensacola, FL. I moved to Indiana after graduating from high school, and a few years later started working for RevolutionEYES. I have been here at Little Eyes for the past 4 years. I love working with kids. In my free time, I like to take my Irish Wolfhound hiking and go to movies with my little brother.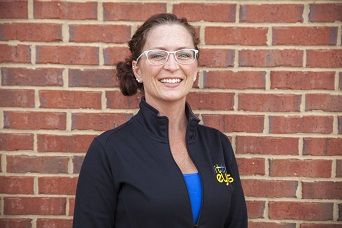 Mary - Optician
I'm from the frigid state of Minnesota. I moved here 12 years ago. I love to work in my yard and spend time with my family. I worked at RevolutionEYES for 2 years before Little Eyes opened, now have been here for almost 4 years, and I'm never leaving! I love it here.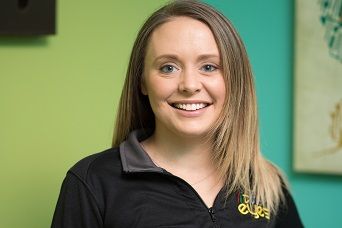 Jenny - Technician/Optician
I was born, raised and currently live in Carmel, IN with my husband and 2 children. I started working for Little Eyes after staying home with my children for a few years and working in the salon industry for nearly 10 years prior to that.
I absolutely LOVE working with the parents and children in my community each day. When I am not at Little Eyes, I enjoy spending time with my friends and family-preferably outdoors!